The Power of Place through SoulCollage®
 A 4-Week Online Workshop with Linda Woolfson in collaboration with KaleidoSoul
9 – 30 May 2020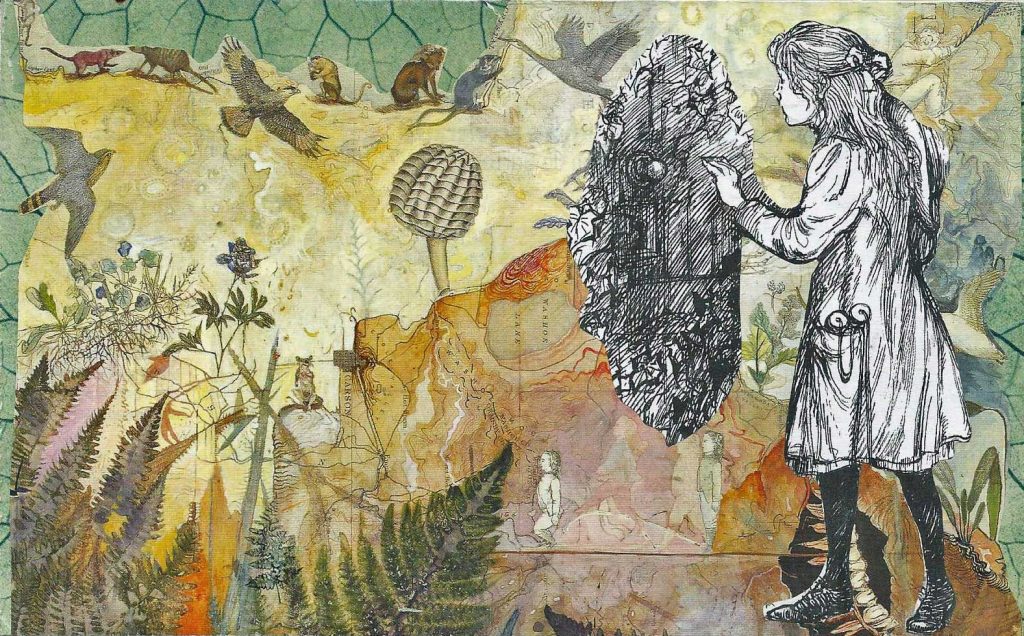 Mary Lennox of "The Secret Garden"
"Places are like smells – they can take you back anywhere."
― Kyle Labe, Butterflies Behind Glass & Other Stories
 "London is a language. I guess all places are."
―  David Mitchell, Ghostwritten
 "If Music is a Place — then Jazz is the City, Folk is the Wilderness, Rock is the Road, Classical is a Temple."
― Vera Nazarian
Would you enjoy exploring your intricate relationship to place through SoulCollage®?
Do words & phrases like "uncharted territory", "lunar landscape" "fresh terrain" "perfect setting" "bon voyage"
and "sacred place" set a candle flickering in your imagination?
Have you ever felt that the best part of going on holiday was coming back home?
Does the idea of delving into places as portals of potential appeal to you?
Do you yearn to immerse yourself in the rich pleasures of the places you love?
Are there SoulCollage® cards about beloved places you've not yet got around to making?
Would you enjoy revealing to yourself how your very own special places dance through your dreams & fertilise your imagination?
Would you love to experience how tuning into your sense of place can make you feel more fully alive?
Does being invited to a SoulCollage® celebration of the place of places in your life make your spirit of adventure cry out "Yes!"?
Has your recent experience of "sheltering in place" transformed your awareness of place?
If you found yourself answering "Yes!" to any of these questions then the brand-new online series "The Power of Place through SoulCollage®" might be just what you've been looking for to take your SoulCollage® practice into new and uncharted territories!
What you'll receive:
Participation in four 90-minute tele-classes with Linda Woolfson, SoulCollage® Trainer, Facilitator and creativity catalyst. Linda has always been fascinated by the relationship between SoulCollage® and our sense of place and loves running workshops and retreats on this theme.
A weekly meditation sent out to you before each class, specially designed to ease you into your own unique way of experiencing places.
Access to the recordings of all 4 tele-classes in case you can't join us in person.
All of the audio classes are also yours to keep as MP3 downloads, giving you a valuable resource for years to come.
Permission to participate or not participate in the live tele-calls. You are free to participate in the way you enjoy most: just listening; asking questions, making comments, sharing your writing and your SoulCollage® cards to the extent that you wish; or choose to listen to the recordings later – enjoy the meditations, the journaling, card-making, card-reading and magic-carpet travelling in your own time.
During each tele-call Linda will introduce lots of intriguing ways to support you in connecting with an array of different perspectives on the places that matter to you. We'll do this together. Linda will also share some of her own favourite ways of working with the place of places in her life.
The tele-calls are all about engaging with your personal experience of the power of place. Most of our time will be spent exploring places fully in the moment. So bring your favourite journal and your most well-loved pen to the calls! NOTE: Any sharing of your experiences is always OPTIONAL and a matter of choice. It is perfectly OK to dial in to these calls, experience them in your own way and never say a word.
Journaling activities, guided meditations, magic-carpet travelling and engaging with the SoulCollage® process will form the basis of our explorations in these classes.
Handouts and resources for each of the 4 tele-classes will be sent to you by email.
Generous email support from Linda to answer any questions you may have in between tele-classes.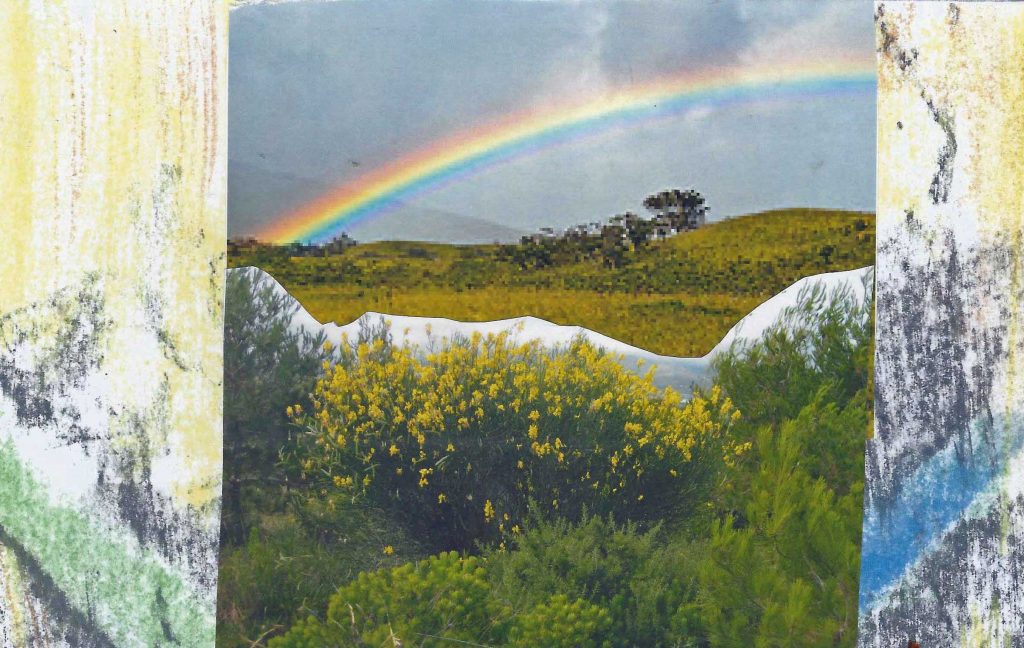 "Favourite Field" –  Areia, Cascais, Portugal
Dates and Times
All 4 classes will last 90 minutes:
Saturday 9 May: Places in your SoulCollage® deck: backgrounds to the foreground.
Saturday 16 May: Home and home-ing: your evolving relationships to Home.
Saturday 23 May: The Traveller: the Pilgrim, Nomad, Migrant, Globe Trotter, Commuter, Flâneur, Home-Maker and many more.
Saturday 30 May: Coming full circle & back to base: slow motion journey around a place special to you.
6 pm London & Lisbon
7 pm Amsterdam, Paris, Berlin, Zurich, Rome
8 pm Vilnius
1 pm Eastern USA
11 noon Central USA
10 am Pacific USA
7 am Hawaii
3 am Melbourne, Australia
5 am Auckland, New Zealand
For other time zones and to check the times given above visit http://www.thetimezoneconverter.com/
If you can't attend one or more classes in person, you'll have access to all of the recordings the very next day. You'll be able to listen online OR download the class as an MP3 file.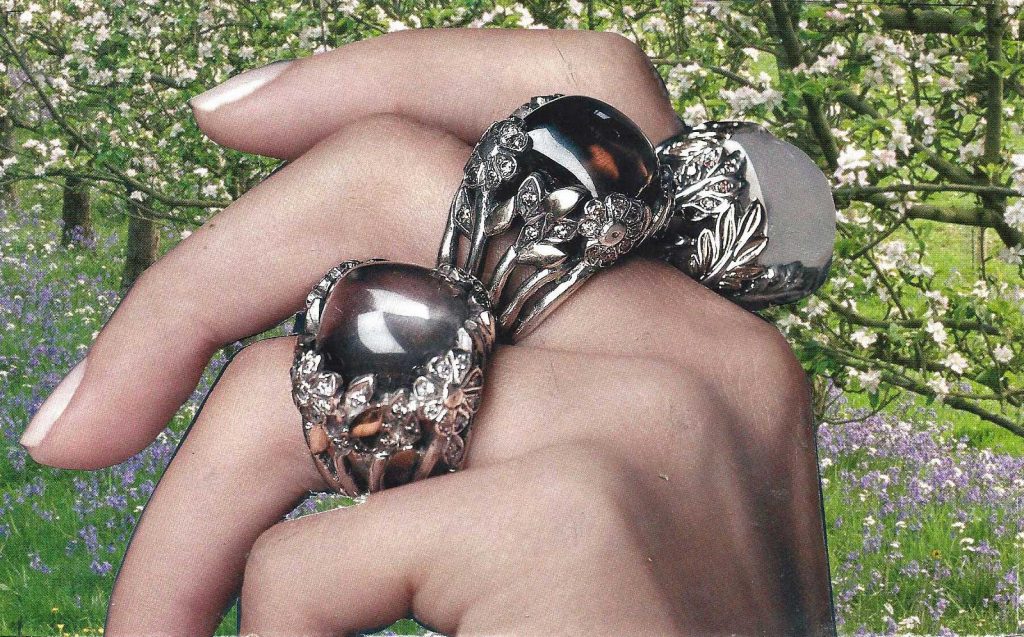 "UK Springtime" 
Register now
The Power of Place through SoulCollage® – 4 online classes with Linda Woolfson:
9 – 30 May 2020
Includes: 4 tele-classes, audio recordings, supportive community, handouts, journaling prompts, guided meditations, email support from Linda Woolfson and lots of tantalising magic-carpet voyages of discovery!
Info about how to call in to the tele-classes will be sent to you when you register.
Price: $98
Payment by PayPal
To register, just CLICK HERE NOW
 NOTE: If you are a Kindred Spirit member on the KaleidoSoul website:
You get a special price of $73. If this applies to you, CLICK HERE.