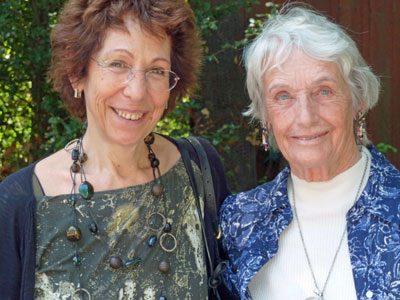 Linda Woolfson, SoulCollage®Facilitator and Facilitator Trainer
I currently offer workshops in Portugal and in the UK. As an international person who loves travel and languages, I am also open to travelling to other countries to offer workshops. I can deliver workshops in English, Portuguese or French.
SoulCollage®, Creativity & Imagination
As an enthusiastic explorer and catalyst of creativity, I am always looking for activities to ignite peoples' imagination and boost their confidence in their creative capacity.
I discovered SoulCollage® while I was busy exploring some fresh ways of linking visual imagery and language for an activity I was developing for my Time for You creativity workshops.
Once I'd discovered SoulCollage® I found it so exciting and useful personally that I wanted to introduce it to as many people as possible, so I went to California to train with its creator, Seena B. Frost.
A Passion for Enhancing Creativity
I have always been passionate about languages, myth, writing and the visual arts. I was born in South Africa, where the sounds of many languages including Afrikaans, Zulu, Xhosa, Yiddish and English infused my childhood. Since then I have lived in England, France, the United States and Portugal. I have a First Class degree and a PhD in French literature from Cambridge University and spent my twenties teaching and delving into languages and literature. I then moved into translating, copywriting and teaching teenagers. As my work relied on my creativity, I began developing a personal repertoire of activities to sustain my creative flow. This led to designing and running Time for You work/playshops for people to renew their sense of wonder and mystery, reconnect with their playfulness and rekindle their creative flame.
Bringing together seeing and speaking/writing through SoulCollage®
It is thrilling to bear witness to the surprise and joy participants in my SoulCollage® workshops feel when they discover their creative ability to make collages of stunning beauty and personal resonance. It is just as inspiring to guide people into finding their power to put into words what they see and sense in the images they have created.
Creating opportunities for people to enjoy SoulCollage®
SoulCollage® has given me a great opportunity to give new form to many aspects of my own life and creativity. I want as many people as possible to experience the sheer fun and exquisite intricacy of this inspiring creative practice.